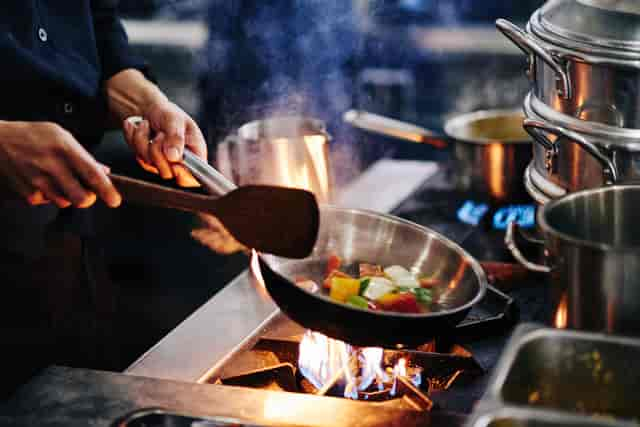 Our Chefs
Executive Chef Colin Bramlett
Chef Bramlett developed his love for food at an early age. As an adolescent he would routinely sneak into his parent's kitchen and "whip-up" snacks using his mother's fresh local ingredients intended for Sunday dinner. Colin's culinary instruction entails: Southern Piedmont Community College, Community Culinary School (Charlotte, NC), and Central Piedmont Community College. He is a certified Servsafe Instructor and Proctor. He has successfully opened several restaurants with his business partner and brother executive chef Josef Alexander. With over 20 years of culinary experience, he was inspired to launch a catering company with his brother in 2011, and that is how Extraordinary Catering was born. His most recent business venture led him to become co-owner/co-chef of Conversation Peace Restaurant; a new American style cuisine restaurant located in Concord, NC. In the rare instance Chef Colin gets some down time he spends it enjoying quality time with his family.
Executive Chef Josef Alexander
Chef Alexander was born with a passion for food, in fact his entire working career has been within the food and service industry. He worked as an understudy for some of the most renowned culinary masters in the world. His skillset spans from exquisite French cuisine to exotic Asian fare and countless authentic dishes in between. Chef Josef encompasses some of the most intricate and superior techniques when preparing meals. Before becoming apart of the dynamic duo he was the sole proprietor of a catering company for many years. Then he decided to team up with his brother (Chef Colin) and launch Extraordinary Catering in 2011. Most recently he has become co-owner/co-chef of Conversation Peace Restaurant. Chef Joe Joe is known equally for his winning personality and highly desirable cooking skills. Some of his most popular signature dishes includes glazed curry chicken and crispy seafood egg rolls. When Chef Joe Joe finds a moment to himself he is usually hosting a family cook-out or he is on the water fishing with a rod in one hand and a cold one in the other.